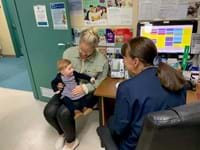 Patients of all ages are welcome at the Narre Warren Clinic. Our doctors and nurses are equipped to care for patients through childhood, adolescence, and on throughout life. We aim to promote continuity of care and encourage patients to see the same doctor at each visit. By planning appointments this is usually possible.
In acute situations, although your preferred doctor may not be available, we can usually offer you an alternative doctor. Longer appointments are available so please speak to our receptionist about your needs. If you or a family member require an interpreter this can be arranged.
Please advise reception as 48 hours notice is required. Following any requested tests, an appointment needs to be made as we do not give results out over the phone. Patients are also expected to see a doctor for repeat prescription.
Our GPs do not provide routine medical care by phone and email.
For emergencies at any time please call 000 for assistance.
Casey Hospital is the nearest hospital. It is located in Kangan Drive Berwick. Tel 8768 1200.
Dandenong Hospital is located at 135 David Street, Dandenong. Tel 9554 1000